Best-In-Class Grocery POS Software
Howmuch POS system grocery stores offer the best in class solution to revolutionize the grocery and supermarket industry. It gives you real-time reports and keeps you aware of your products and services that are performing well. Howmuch makes your grocery store a one-stop-shop with its cloud-based retail point of sale solution and allows you to manage your store effectively. Howmuch grocery store point of sale system encourages retailers to provide customers with multiple payment options so they can shop with ease without missing a beat.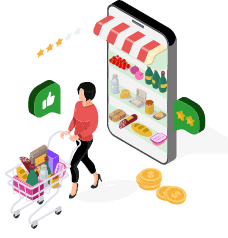 Ideal Grocery Store POS Software
Howmuch is the best grocery store POS system that gives you a chance to keep your profit margins high with its modern technology. No matter what your business size, Howmuch has a solution for every store. We offer the best POS software for grocery stores. It is easy to set up and maintain. Howmuch free POS system for grocery stores enables you to simply add hundreds and thousands of products with just a few clicks. Manage your store's inventory and restock products before they reach the threshold.
Fast & Intuitive Grocery Store Point Of Sale
Howmuch POS system for grocery businesses maintains your customer base. it gives your customers reasons to visit you again and again. It keeps the customers informed, excites them with discount offers, and sends them promotional emails, SMS, and gifts. Your store's sales report, inventory, and customer purchase history will always be in sync, no matter if your customers are shopping in-store, on the web, or on mobile. Our grocery POS system allows you to make informed decisions. Its fast and intuitive capabilities keep lines moving.
Perks You'll Get From Using The POS System For Grocery Stores
Increase Profitability
---
Howmuch grocery store POS has a ton of different features. It offers users comfort, security, and the ability to conduct business without being bothered. With prompt assistance and secure payments, it enables merchants to efficiently serve more customers. Howmuch grocery point of sale system brings ease to your business by providing the customers greater clarity of product transactions at the checkout counter through a super-cool interface. It delivers customers the best service and it works efficiently to increase your business profitability.
Multiple Payments Facility
---
Howmuch POS for groceries offers multiple payment options and accepts all methods of payment that customers find convenient when making purchases, including cash payments, credit or debit cards, online transfers using Visa and Mastercard, and more. Howmuch grocery point of sale system keeps track of customers' credit or debit card payments and validates your external card terminal procedures. It will surely attract foreign customers as well to your store. Howmuch provides store operators with increased conversions and sales.
Inventory Management
---
Howmuch inventory management involves exceptional features, such as offering a planogram. You will have business-wise product categorization and customization on products that are mixed in a department. It provides you with suggestions to reorder your product categories too. It offers the perfect grocery store POS inventory management software that tracks each inventory unit and manages the store centrally. Howmuch point of sale systems for grocery stores deliver a seamless experience and optimize the inventory management operations.
Online & Instore Presence
---
Howmuch best point of sale for grocery store incorporates the most advanced and proprietary technology to allow a customer to shop online and in-store securely and efficiently. Catering to the needs of new-age retail stores and entrepreneurs, Howmuch grocery point of sale software also provides retailers a platform to enter the digital world's fast lane. We offer a cutting-edge solution developed indigenously from top to bottom with no blueprints to follow and no off-the-shelf software packages to buy.
Frequently Asked Questions