Intuitive Book Store POS Software
Howmuch book store POS system offers a variety of features and functionalities. It simplifies the procedures and meticulously keeps track of each order, delivery status, and sale made through the online bookshop. Managing your inventory and book store with Howmuch is simple, and you can view detailed information about your best-selling items. Retailers can use Howmuch to make decisions with quick and insightful information. You can get personalized sales reports, store performance data, and customer preferences for particular products.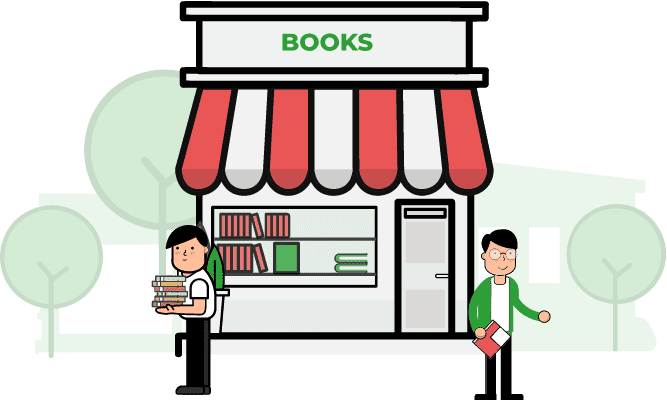 All-In-One point of sale systems for book store
Howmuch book and stationery shop point of sale software gives you an all-in-one platform where you can perform multiple activities to manage your business operation. Its cloud-based capabilities let you access your data anywhere, and at any time. You can also make better decisions regarding your book store's business performance. It also gives you the flexibility to manage your business in-store and have your presence online as well. Consumers no longer need to allocate separate time for shopping as they can do it online anywhere, at any time.
Best Point Of Sale Software For Book Store
Howmuch POS for bookstores is considered as one of the best stationery shop billing software in Pakistan. It gives book store vendors leverage to elevate the performance of their stationery store with the latest technology. Its advanced capabilities let your customers buy books online, have contactless payment and view the books of their choice even without physically visiting your store. Howmuch ensures to provide customers with a satisfying experience. It provides the customers with the choice to shop according to their requirements.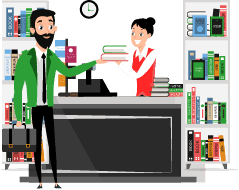 Why Howmuch Book Store Point Of Sale Software?
Give Speedy Checkout
---
Providing speed with simplicity is our top priority. Our bookstore POS ensures that you don't have to spend any time on staff training while keeping the customer line moving with quick product searches, quick processing, quick billing, and fast multiple payment options. In order to make it simple for customers to purchase products without even visiting the store. Howmuch also helps retailers by integrating physical stores with e-commerce. It also offers a seamless payment option, which will increase both your store's profit and the rate at which your sales grow.
Enjoy Cloud-Based Convenience
---
Howmuch bookstore POS is a highly practical and secure point of sale software built on cutting-edge cloud-based technology that enables you to run your business with ease from anywhere. It securely stores sensitive customer data, as well as business data, in its cloud storage. With its exceptional cloud-based intelligence, Howmuch point of sale software for bookstores monitors sales, tracks book stock, and evaluates the overall effectiveness of your book store while being end-to-end encrypted.
Bring Your Bookstore Online
---
Howmuch bookstore point-of-sale systems combine in-person and online sales for businesses. You can control your inventory, clients, sales, and orders from any location at any time, and you can sell products across all platforms at once. One of the most significant benefits of using it is the simplicity with which you can communicate with customers virtually without having to do so in person. Customers can easily place orders for the exact books they want and pay using any payment method that works best for them.
Track Customer Purchase History
---
By giving customers a super-slick interface that improves customer clarity of product transactions at the checkout counter, Howmuch helps your business run more smoothly. This allows you to become more customer-centric and successfully manage the purchasing histories of your customers. Customers can easily see what is being added to their receipts because of this. The Howmuch POS system for bookstores uses purchases to identify a customer's buying preferences and provides a broad overview of what customers prefer and most frequently buy.
Frequently Asked Questions