Outstanding Gift Shop POS Software
Howmuch POS is the best gift shop POS software that keeps track of your products and customers and increases your sales revenues. It focuses on your business's minor and major activities and gains valuable insight into your customer's priorities. No doubt, it is the best POS software that keeps your business aligned. Howmuch gift shop POS is compatible with any device, and you can use it anywhere and at any time. It is the best gift shop point of sale software that helps you stay on top of your operations.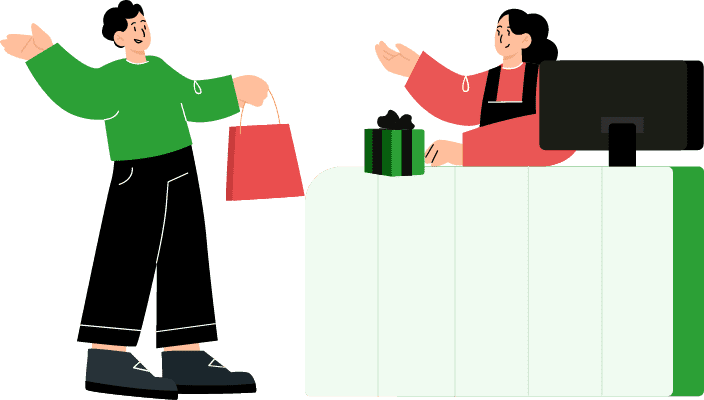 Easy and Convenient Gift Store POS
Howmuch has the best gift shop POS system that gives customers convenience and ease of placing an order online and picking up the specific item from the store directly. Customers can also place orders and deliver gifts to their loved ones with the Howmuch gift shop POS. It is the fast and modern point of sale solution that exactly fits the gift shop's needs. Its in-built management capability keeps track of every individual activity so that you can easily sell with Howmuch POS for gift stores without a hitch.
Selling In-Store And Online With Gift Store POS
Howmuch is the best gift shop POS system that keeps track of your daily cash flows and transactions. It also offers you the ability to provide your customers with multiple payment options such as credit cards, gift cards, and loyalty points. You can also sell in-store and online with the howmuch gift store point of sale system. Howmuch gift shop POS allows you to track your inventory, manage your sales, employees, and billing, and improve your business operations. Your high-value items are always safe with Howmuch.
Why Do Customers Pick Howmuch Gift Store Point of Sale Software?
Maintain Better Customer Engagement
---
Make customer engagement your top strategic priority and increase brand success by engaging with customers more frequently. You can design your sales process to be more customer-focused using it. During the online or in-store checkout, it instantly saves and keeps track of the customers. You can quickly compile information about your customers using the Howmuch POS system for gift shops. It engages with your customers more by sending them emails, SMS messages, or mobile notifications with receipts and promotions.
Have Discount Management For Customers
---
The Howmuch gift store POS system makes it easier for businesses to attract new customers and create alluring discounts, great deals, and the best coupon codes. All credit goes to automation in subscription and billing management. The Howmuch POS system for gift shops enables users to manage refunds across all of their products, stores, and customer segments with ease. At the same time, it lets you manage multiple stores and you can sell almost everywhere using this outstanding POS solution.
Launching Marketing Initiatives To Promote Products
---
The Howmuch POS system for gift shops offers you the ideal platform for your exceptional business marketing. It offers users a wide range of options and develops strategies for helping them grow their businesses through marketing add-ons. In order to keep in touch with their customers forever, users can also send them customized emails, SMS, and mobile notifications. With the help of the Howmuch gift shop POS system, you can create all kinds of appealing special offers and promotions that will increase client loyalty.
Simultaneously Managing Multiple Stores
---
In Howmuch POS for gift stores, your customer data will always be in sync, whether your customers are shopping in-store, on the web, or on mobile. It allows you to make an informed decision. Howmuch POS for gift stores with artificial intelligence lets you avoid delivering to customers with a bad history. It ensures items are always in stock for customers. It provides promotions to inactive customers. While at the same time, it suggests products to customers based on their usage pattern.
Frequently Asked Questions